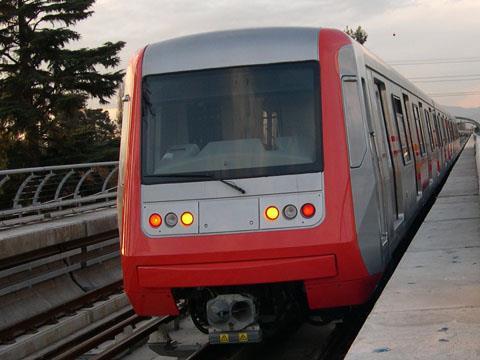 CHILE: President Michelle Bachelet has announced that construction of Santiago metro Line 6 will start in 2010. The 14·8 km 12-station line will cost around 486m pesos and is intended to relieve overcrowding on Line 1 when it opens at the end of 2014.

Designated Línea Expreso Sur, Line 6 will run from Pedro Aguirre Cerda station, in the southwest district of Cerrillos, diagonally through the city centre to Tobalaba station in the eastern district of Providencia.

Metro connections will be provided with Line 2 at Franklin, Line 5 at Ñuble and Line 1 at Pedro de Valdivia. Passengers using the Metrotrén commuter service from Rancagua and San Fernando will have a new connection to the metro network at San Eugenio. Serving 1·2 million inhabitants in eight communes, the line is expected to carry 105 million passengers a year.

The 3·8 km three-station extension of Line 1 to Los Dominicos, and the first 5·8 km section of the Line 5 Maipú extension, as far as Pudahuel, are expected to open this month. Trial running began on the new section of Line 1 on December 23.

Metro de Santiago is also acquiring new trains to provide additional capacity for the extensions and respond to growth in ridership. The first of 20 nine-car rubber-tyred trainsets supplied by CAF for Lines 1 and 5 entered service during November, and deliveries of 36 Alstom Metropolis steel-wheeled cars for Lines 4 and 4A commenced in December.