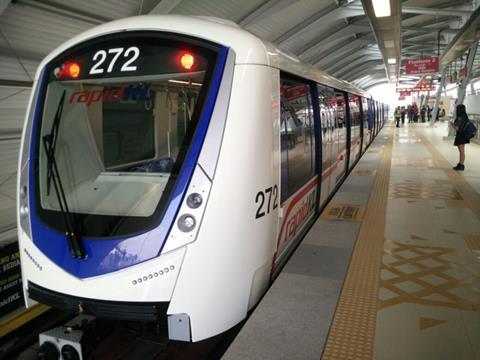 MALAYSIA: The first of 14 Innovia Metro 300 driverless light metro trainsets ordered by Kuala Lumpur transport agency Prasarana to increase capacity on the Kelana Jaya Line has entered service, supplier Bombardier Transportation and its local partner Hartasuma announced on December 29.
The four-car aluminium bodied trainsets have wide walk-through gangways, CCTV, LCD infotainment screens and dynamic route maps. They have linear motor propulsion, with regenerative braking.
The trainsets were designed, built and tested at Bombardier's plant at Kingston in Canada, with rolling stock maintenance company Hartasuma fitting out the interiors and installing communications systems at its plant in Westport near Kuala Lumpur. The first trainset was delivered to Malaysia in December 2015.
Bombardier has won contracts to supply similar Innovia Metro 300 trainsets to Vancouver and for the Riyadh Metro Orange Line.