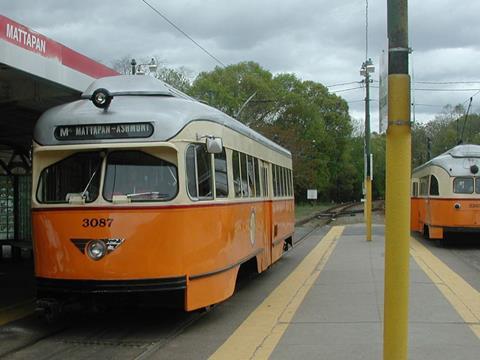 USA: Massachusetts Bay Transportation Authority plans to overhaul its fleet of PCC streetcars. The $7·9m overhaul and aims to extend the life of the vehicles, which have been in service since the mid-1940s.
The work is expected to take two years and will include fitting new traction equipment, brakes and power supply systems. A further $1·1m will be spent on studies for the future of the Mattapan – Ashmont High Speed Line, which is served by the PCC streetcars. The 4·2 km route with eight stops carries 4 600 passengers a day.
'These historic vehicles are among the very last of many thousands that operated in major cities across the United States, and are beloved by many residents in the communities they serve', said MBTA Acting General Manager Brian Shortsleeve.
MBTA has 10 PCC streetcars, of which seven are in revenue service. Because of their age, replacement parts must be custom-made by at MBTA's Everett workshops. Parts have also been obtained from museums.