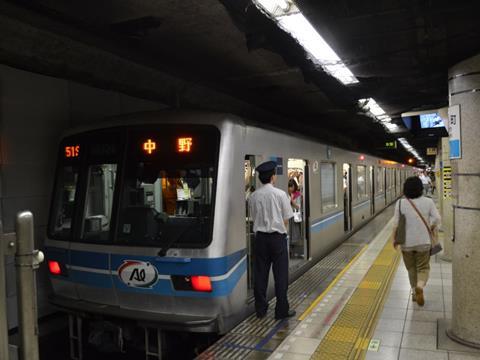 JAPAN: Tokyo Metro is offering passengers free food as an incentive to travel outside the morning peak in a trial that aims to reduce overcrowding.
Passengers travelling from stations between Toyo-Katsutadai on the Toyo Rapid Railway Line and Monzen-Nakacho on the Tozai Line are eligible for the two-week trial, which started on January 21. The Tozai Line, which features through-running with the Toyo Rapid Railway Line, is among the most heavily used metro lines in Tokyo. In 2017 it carried an average of 76 616 passengers between Kiba and Monzen-Nakacho stations from 07.50 to 08.50 on weekdays, resulting in a load factor of 199% on the 10-car trains.
Tempura and soba noodles
Passengers who wish to take part in the trail must pre-register, and travel early on all 10 weekdays. The cut-off time for early travel varies depending on the origin station.
If at least 2 000 passengers take part in the trial, they will each receive a voucher for a piece of tempura, and if 2 500 people take part the reward is upgraded to a bowl of soba noodles. If at least 3 000 passengers register and make the early journeys, they will be entitled to both a bowl of noodles and a piece of tempura.
The rewards will be given out in the form of vouchers that can be exchanged at Metro An, which has branches at Otemachi, Kinshicho, Shinkiba and Nishi-Funabashi stations.
Other measures also being taken
The trial is separate from an initiative by the Tokyo Metropolitan government to encourage fewer passenger to travel in peak hours. Around 1 000 businesses are taking part in the campaign by allowing employees to work different hours or work from home.
Next year Tokyo will host the Olympic and Paralympic Games, which are expected to bring a large number of visitors to the area, further increasing crowding on the city's metro.