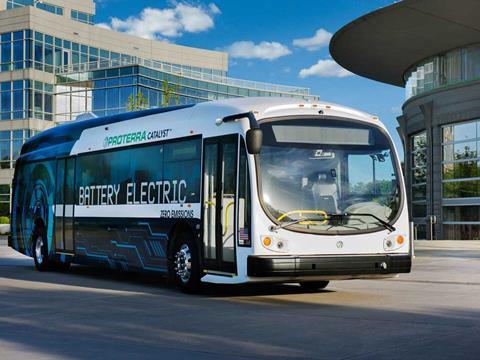 USA: Proterra is working with Mitsui & Co to establish a US$200m credit facility to support a battery leasing programme, the electric bus manufacturer announced on April 16.
Under the programme, a customer that purchases a Proterra bus can lease the batteries over the 12-year life-cycle of the vehicle. Proterra will own and guarantee the performance of the batteries, and provide new batteries after six years.
The aim of leasing batteries is to reduce the capital cost of an electric bus. Proterra says that this would put the cost of its buses roughly on the same level as a diesel or compressed natural gas bus.
The leasing of batteries separately from a bus was made possible by the Fixing America's Surface Transportation Act, which was passed in 2015.
'We're seeing innovation both in technology and in businesses around the mobility sector', said General Manager of Mitsui's New Business & Innovation Division Yosuke Matsumoto. 'There is a unique opportunity for markets to provide the necessary capital to accelerate the imminent transition to 100% battery-electric bus fleets and reduce carbon emissions.'
As Proterra will own the batteries, it will also seek to use them elsewhere after the end of their useful life in a vehicle.