October 28 to November 1, 2019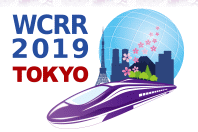 Tokyo International Forum, Tokyo, Japan
Website: https://wcrr2019.org/
Railway Research to Enhance the Customer Experience
WCRR was established for the purpose of providing an overview of the world's development of railway technologies and discussing future directions to be taken by railway operators. This is the world's largest international congress on railway research, proudly unprecedented in the sense that railway researchers and engineers gather together with managers and executives of railway operators in one congress.
For some countries, ensuring the competitiveness of the railways over road and air transport is imperative, while in others, boosting railway transport capacity is still the first priority. To continue to be chosen as a transport mode in the future, the railways need to provide high quality customer experience based on novel technologies for economically-efficient operation, while maintaining high standards of safety and excellent environmental performance. Breakthroughs in research and development will be indispensable, and sometimes radical innovation to break out of the barriers of conventional railway systems might be necessary.
Therefore, at WCRR 2019, we would like to provide the time and place where railway delegates from around the world are able to share their views regarding the roles that research and development are expected to play in order to further elevate the values of railways, while railway engineers and experts are able to share information and expertise. Your participation in all possible forms will be highly appreciated, to achieve these goals.
In Japan, we have been steadily promoting the development of urban transit systems which will meet the demands of densely-populated urban areas, and expanding the Shinkansen network which will have a tremendous impact in revitalizing the Japanese local economy. I am expecting that, if you come to Japan, you can sense the impacts that the railways have had and are still having upon the Japanese society and economy, and experience how vital a role railways are playing in this country.
In the autumn of 2019 when we host WCRR, the Rugby World Cup will also come to Japan, and will be followed the next year in 2020 by the Tokyo Olympic Games. So I firmly believe that in the year 2019, you will be able to experience a highly-charged, vibrant metropolis of Tokyo.
Websites
We are not responsible for the content of external sites