12 - 14 November, 2019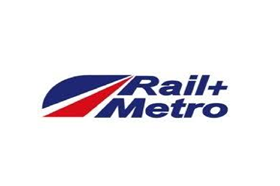 Shanghai New Internaional Expo Center
Website: http://www.railmetrochina.com
Rail+Metro China 2019 (14th Shanghai International Exhibition of Intercity and Urban Mass Transit), produced by the Shanghai Shentong Metro Group and Shanghai Intex Exhibitions, is taking place at the Shanghai New International Expo Center from 12th to 14th November, 2019.
With the strong support of the China National Development and Reform Commission (NDRC), the China Association of Metros (CAMET), and under the committed guidance of the China Academy of Transportation Sciences (CATS), the China Investment Promotion Agency (CIPA) and the Shanghai Municipal Transportation Commission, Rail+Metro China has established itself as one of the largest and most respected business-to-business platforms for trade, procurement and promotion in the inter-city and metropolitan rail transit industries in China and the Asia-Pacific.
Rail+Metro China 2018 together hosted over 200 exhibitors from 16 countries worldwide, with the show floor spanning 15,000 square meters. The exhibition attracted a total of 23,698 professional industry visitors, including delegations from the public transport administrations and companies of at least 30 cities (including light rail, metro and trams), as well as more than 10 regional railway units. In excess of 1,000 international visitors from at least 30 countries attended, including government delegations from Russia, Germany and Korea.
Websites
We are not responsible for the content of external sites