Tuesday 31st March - Thursday 2nd April 2020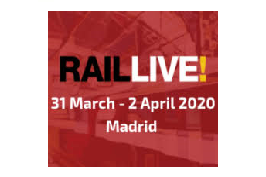 WORLD LEADING CONFERENCE
The conference brings the global leaders together to discuss how new technologies are shaping the railway of the future. Speakers include world leading CEOs and visionary thinkers from networks and projects around the world.
VISIT THE RAIL LIVE 2020! EXHIBITION
The Rail Live! exhibition is an international event that brings the world's rail and urban rail community together! Exhibitors include CAF, ArcelorMittal, Ingeteam and Pandrol.

The exhibition hosts companies who are developing technology or providing services for the forward-thinking rail networks and projects around the world. With companies involved in everything from rolling stock, smart maintenance, IOT and data analytics to construction, the whole supply chain is represented at Rail Live!
What is RAIL LIVE ?
Rail Live! is an exhibition and premium conference that brings the full supply chain and global visionary leaders together update the industry on the latest developments around the world.

The exhibition will host over 300 exhibitors representing the full range of technology and services relevant fo the rail industry. Including civil engineering, rolling stock, construction, track innovation, new machine tools, IOT and AI, connectivity and automation.
The conference will host 350 global speakers sharing their insights, visions and experiences with over 2000 delegates. 12 collocated conferences span across key areas of innovation and development in the industry, including Mega-Projects, Digital & IOT, Train Control, Cyber Security, Intelligent Infrastructure, Freight and Metro & Light Rail. With plenty of presentations, panels, round tables and networking opportunities, join us to participate in the discussion around how the rail industry can innovate effectively with new technologies and meet the demands of growing ridership.