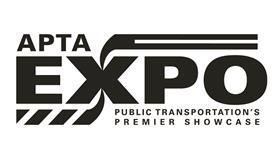 11 - 14 October
Anaheim, CA
Website: https://www.aptaexpo.com
Held every three years in conjunction with the American Public Transportation Association's (APTA) Annual Meeting, EXPO is public transit's premier showcase of technology, products and services. Be at the center of the growing public transportation industry October 9-11, 2017 in Atlanta, Georgia. APTA EXPO is the only event where innovation and technology converge to accelerate every mode of public transportation and every aspect of your organization. EXPO 2017 offers attendees the chance to:
SURROUND yourself with 800+ global exhibitors showcasing the latest industry innovations and services
RECHARGE with 12,000+ industry peers and exchange and discover real, inventive solutions
AMP UP the performance of every member of your team with free education in the Learning Zones
MAXIMIZE your time – everything you need to see, test, touch and explore is under one roof!
JOIN industry leaders accelerating the future of the public transportation industry
Become a part of the show — register now!