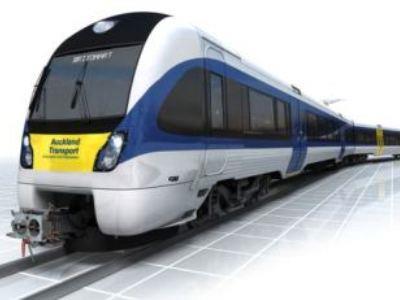 NEW ZEALAND: Transport Minister Steven Joyce confirmed on October 6 that Auckland Transport had signed contracts with Spanish manufacturer CAF for the supply and maintenance of 57 three-car electric multiple-units to operate the Auckland suburban network.

Speaking at Britomart station in the city centre, Joyce said 'this is another key milestone on our way to delivering a real step change in commuter rail travel in the region'. Auckland Mayor Len Brown described the deal as 'the next step towards giving Auckland a 21st century rail network'.
Saying that he was 'proud' of the deal which represented the company's first foray into Oceania, CAF general manager Jesus Esnaola said that 'as part of our commitment with New Zealand, we are announcing today that we already created our new subsidiary, CAF NZ Ltd, that will take care of the fleet maintenance.' This work will be undertaken at a new depot in Wiri to be built by Auckland Transport.
The 25 kV 50 Hz EMUs are to be are expected to be delivered from mid-2013 and will enter service in 2014. The stainless steel-bodied units will be derived from the Class 332 units that CAF and Siemens supplied to operate Heathrow Express services in the UK. Many of Auckland's suburban services are currently operated by converted UK inter-city coaches acquired by KiwiRail and rebuilt to 1 067 mm gauge.
The acquisition of the new EMUs and electrification of the suburban network form a key part of the government's NZ$1·7bn investment in Auckland's metropolitan rail network. This is expected to increase annual rail ridership from 10 million passengers a year to more than 17 million by 2016. At peak times there will be six trains/h from Britomart to Papakura in the south, on the eastern line and to Swanson on the western line. The EMUs' faster acceleration compared to the existing diesel trains is expected to provide a significant saving in journey times.
According to Auckland Transport, a $NZ500m loan from the government agreed in 2009 will provide around NZ$400m for an initial 38 EMUs, with the remainder funding the new maintenance depot. The additional 19 trainsets to create an homogeneous fleet are being funded under a separate agreement, with NZ$90m coming from the government and the balance from Auckland Council.