The 28 km standard gauge link to the new Bangkok airport lies at the heart of plans to revitalise the Thai capital's urban rail services. Andrew Grantham reports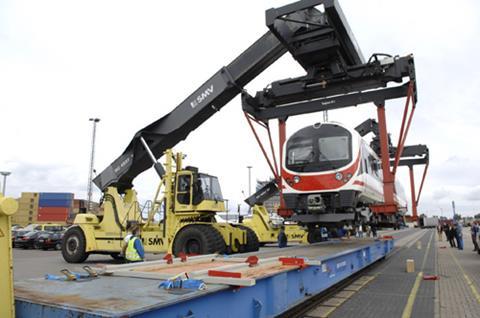 'THE FIRST significant step to an integrated suburban rapid transit system in Bangkok' is how Dr Krit Anurakamonkul of State Railway of Thailand describes the fast rail link which is under construction between the city and the future Suvarnabhumi international airport.
Construction is being carried out by an international consortium under a turnkey contract signed on January 20 2005 (RG 2.05 p64). The 28·8 km route is being promoted by the national railway operator, but when the line opens at the end of 2007 it will be operated by a still to be selected independent concessionaire.
Two kinds of service will be provided, aimed at airline passengers and the suburban market. Non-stop Express shuttles from the airport to the City Air Terminal at Makkasan will take 15 min to cover 25 km, with trains running every 15 min from 05.00 to 01.00. The City services will call at a total of six intermediate stations, continuing a further 3·2 km beyond the City Air Terminal to an interchange with the Skytrain elevated metro at Phaya Thai. End-to-end journey times on the City services will be 28 min for the 28 km, with trains running every 15 min during the day and half hourly at night.
990 days
National railway operator State Railway of Thailand is the client for the ARL project, and has appointed a group of consultants to supervise construction.
The international tendering process in 2004 attracted bids from three consortia. The MCBM consortium of CH Karnchang, Bilfinger Berger and Mitsubishi did not meet financing requirements, and the 32·7bn baht bid from the East-West Consortium of Italian-Thai Development and Vossloh was beaten by the 29bn baht winning bid. This came from a consortium of B Grimm, Siemens, which has been working with Grimm in the region since 1900, and Sino-Thai Engineering & Construction Public Co.
The turnkey contract was signed with the preferred bidder in January 2005, and notice to proceed came on February 18.
Work has been split into two parts. Civil, architectural and building work worth a total of 12·2 bn baht will be provided by Sino-Thai Engineering & Construction Public Co. Railway systems and the facilities at the City Air Terminal will be provided by a grouping of B Grimm International, B Grimm MBM Hong Kong Ltd, Siemens AG and local subsidiary Siemens Ltd at a cost of 13·6bn baht. Subcontractor China Rail will be responsible for the trackwork, and LZB inductive train control is being provided.
The infrastructure works are to be completed by August 7 2007, a deadline set 900 days after the start of work. Testing will be completed 90 days later, ready for handover to the line's operator.
Up in the air
The Airport Rail Link will have its own dedicated tracks, elevated on a continuous concrete structure above and alongside SRT's existing metre-gauge eastern corridor, where passenger and freight services will continue to run.
The City Air Terminal is to be built on surplus SRT land at Makkasan, and additional elevated stations for the City services will be built at Phaya Thai, Ratchaprarop, Ramkhamhang, Hua Mak, Ban Thap Chang and Lat Krabang.
ARL diverges from the existing rail corridor at Lat Krabang, turning south to access the airport complex. At the airport the line drops from viaduct level into a concrete trough before terminating beneath the passenger terminal, where the double track route will split into separate terminating tracks for the City and Express services.
The airport will open before the railway is completed, and site owner Airports of Thailand needed to complete the architectural design of the terminal before details of the rail link project were finalised. This meant that the 240m by 40m station box had to be built in the very soft ground to a generic design, suitable for whatever form of railway technology and electrification might be adopted by the railway systems contractor, who had not been selected when construction began. Siemens took possession of the empty box at the end of September, allowing work to begin on the station.
The final design has two island platforms, one serving two tracks for Express trains and one serving the two lines which will be used by City services, with secure baggage- handling facilities at the airport end of the Express platforms. Escalators will give direct access to what Airports of Thailand calls a 'luxurious and grand' air terminal reception area.
Provision is being made to extend the rail link to give landside access to a future second terminal once air traffic demands it. There will be no public road access to the second terminal, with all travellers using either the landside railway or an airside automated people mover. Walking routes between the terminals and airport hotels will run via the station, proving an opportunity for income from retail outlets.
Full airport check-in facilities will be provided in the City Air Terminal at Makkasan, with secure baggage transport to the airport. Tickets for Express services will be sold only at CAT, with passengers landing at the airport walking straight on to the next train and travelling to the city, where they will purchase a ticket before leaving the station.
Clock running
The process to select an operating concessionaire has still to get underway. The construction contract does not include staff training, and 'the clock is running', warns Jörn Grasse, head of Siemens Transportation Systems in Thailand. Training will need a minimum of two to three months, and will be complicated because foreign experts will not speak Thai, while English-speaking Thais can seek wages above what it is economical to pay train drivers.
Meanwhile, at SRT 'we know that the time is very tight, and we need to get an operator as soon as possible', said Dr Anurakamonkul on November 1. SRT wants a private operator to run the line 'because of our philosophy as a national railway at the moment', which he describes as 'very bureaucratic and not very punctual'. He believes 'we cannot go under the same management philosophy' for the airport line.
'We won't have an operating railway when the airport opens', stresses Dr Stephen Buttling, Tyco Earth Tech's Project Manager at the airport site. 'During planning you've got to decide if the prime means of access is road or rail,' and at Suvarnabhumi airport 'it will be by road'. The site is adjacent to the Bangkok - Chonburi motorway, with easy access to the elevated toll roads in Bangkok.
The choice of technology for ARL was left to the bidders, who selected 25 kV 50Hz electrification and standard gauge track. The metre gauge used on the 4 129 km existing SRT network was rejected because of the high speeds required on ARL, and a perceived lack of suppliers of suitable rolling stock for the narrower gauge.
Siemens will supply nine EMUs for the airport rail link, which to keep costs down will be based on the small fleet of Class 360/2 Desiro UK vehicles built for Heathrow Connect services in London. The City services will be worked by five three-car trains, and Express services by four trainsets with an extra car for the secure transport of air passengers' baggage.
The two types of train will have differently-configured interiors, but they will be mechanically and electrically identical, with powered driving vehicles and intermediate trailers. It is anticipated that four cars will suffice for Express services until 2011, by which time traffic will have increased to need seven-car trains. 10-car trains of one four-car and two three-car sets would then enter service in 2021. City services will begin with three cars, expanding to seven cars in 2012 and 10 cars in 2022. All stations are being built for 10-car trains, and platform screen doors will be fitted.
Top speed on the route will be 160 km/h, but the number of stops will prevent City trains reaching this maximum speed. Regenerative braking will be used to save on energy and maintenance costs, and careful calculations were required to allow for the hot climate.
The depot will be built on SRT land at Klongton, and trains in the depot will run at a maximum speed of 25 km/h, and at 5 km/h through the washing plant.
Value capture
SRT expects the commuter services to bring changes in urban travel patterns, and choice of mode in a corridor through the east of Bangkok. Anurakamonkul says the railway aims to leverage this for 'value capture on property development and land capital'. Development of the currently under-utilised rail corridor and surplus railway lands is an integral part of the project.
Major retail and office developments are planned for the site of former railway workshops at Makkasan, with property investments generating significant revenue with a 15 to 20-year payback. The City Air Terminal complex will have a total floor area of 54 000m², and will be served by Petchaburi station on the MRTA Blue Line as well as both ARL services.
The business model is based on projects in Hong Kong, where MTR has developed land around and above the stations at Tung Chung on Lantau Island and at Tsing Yi, where 3500 residential units and 133 shops are served by a transport interchange on the Airport Express and Tung Chung Line routes.
In the longer term, SRT expects the Airport Rail Link to form the core of improved and upgraded commuter rail services around Bangkok and its hinterland. The City line could ultimately be extended beyond Lat Krabang to reach Nakhom Nayok, around 100 km from the capital.