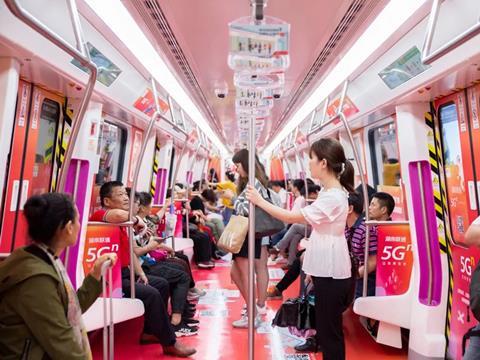 CHINA: The 33·5 km Changsha metro Line 4 opened on May 26, with 180 000 passenger-journeys made on the first day.
Construction of Line 4 began in December 2014, and cost a total of 29·5bn yuan. The route starts at Guanziling in the northwest and runs south to Fubuhe, where it turns east to cross under the River Xiang. It then runs via Changsha Nan high speed rail station to terminate at Dujiaping in the southeastern suburbs of the city. There are 25 stations, of which eight are interchanges with current or future lines.
Services operate between 06.30 and 23.00. There are trains every 9 min off-peak, with headways reducing to slightly under 8 min in the peaks and with the capability of running every 7 min if required at the busiest times. End to end journey time is 1 h.
The six-car Type B trainsets are stabled near the two termini.
Line 4 forms part of Phase 3 of the city's metro development plan which is being undertaken in 2017-22. This includes new lines 6 and 7, a northern extension to Line 4, and extensions to lines 1, 2 and 5. These will expand the network by 121 km and add 83 stations at an estimated cost of 84bn yuan.