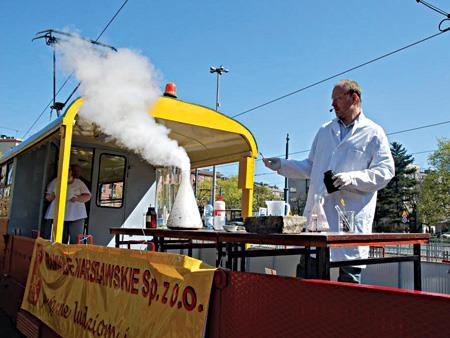 POLAND: To celebrate the International Year of Chemistry, Warszawa Trams has been operating a special Chemical Tram, which has been roaming the city's network making presentations to school children.
Staff on the open wagon towed by a decorated works vehicle conducted a range of spectacular experiments, demonstrating changes of acidity using dry ice, and the decomposition of hydrogen peroxide.
Backed by the Polish Chemical Society and the Institute of Physical Chemistry, the project was launched earlier this year by representatives from the Marie Skowdowska-Curie Museum and the Directorate for the Popularisation of Science.
Museum Director Margaret Sobieszczak-Marciniak noted that the event also marked the centenary of Marie Curie's Nobel Prize for Chemistry, which was awarded in 1911 to follow her better-known award for Physics in 1903.
During the summer term, the Chemical Tram operated every Wednesday, setting out at 10.00 to make hour-long presentations at different schools around the city.