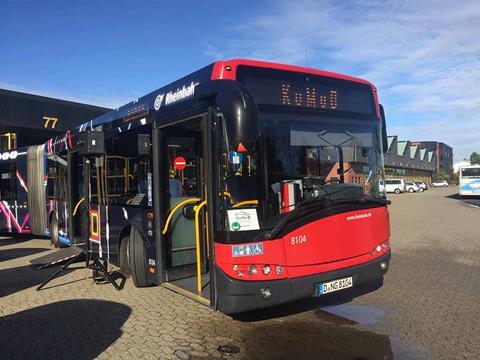 GERMANY: The City of Düsseldorf and Siemens Mobility officially opened a 20 km test track for automated and connected vehicle on September 24.
Düsseldorf public transport operator Rheinbahn has provided 16 of its buses to be fitted with on-board equipment for test track operations. The equipment transmits vehicle location data to traffic lights, to enable buses to be prioritised at junctions.
Each of the four junctions on the test track with traffic lights has a road side unit for 'near-real-time' information exchange between vehicles and infrastructure. This includes transmission of forecast signal timings from a signal phase and timing unit.
'We are proud to be a partner with the City of Düsseldorf on this important project, which is laying the ground work for the future of road mobility in Germany. The test track is the first of its kind in Germany and our technologies will reduce traffic congestion, enhance safety and provide more availability of mass transit as we continue to move towards vehicle autonomy', said Head of Siemens Mobility Germany Manfred Fuhg.