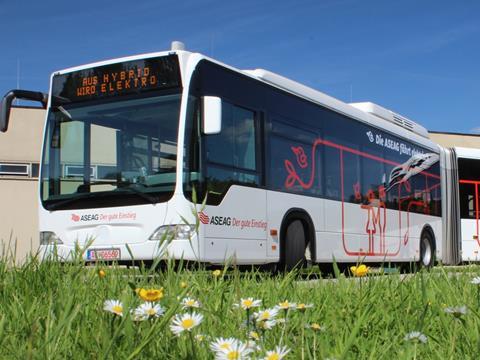 BUSES: Transport software company IVU Traffic Technologies and Aachen-based consultancy Ebusplan have formed a joint venture to develop software and components for battery electric buses.
Based in Aachen, EBS Ebus Solutions aims to develop rostering tools tailored to the needs of electric bus fleets. The joint venture partners expect demand for this to grow as transport operators increase the number of electric buses that they operate.
'The electric bus market requires specific solutions and a completely new approach', said IVU CTO Matthias Rust, who becomes the Managing Director of Ebus Solutions.
The software being developed aims to enable a consistent planning process across five fields: strategic planning, vehicle scheduling, charging phase planning, depot management and vehicle dispatch.
'We want to think about electromobility systematically', said Ebusplan Managing Director Philipp Sinhuber. 'This means that we have to get rid of outdated customs and develop systems that cover and enhance all deployment of electric buses with innovative approaches, independently of the specifications of existing planning tools.'