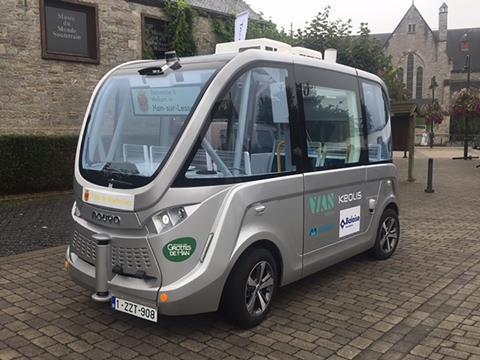 BELGIUM: Keolis has begun testing a NAVYA electric autonomous shuttle in Han-sur-Lesse. It will initially operate on a 500 m route linking car parks to the Cave Domaine speleological tourist attraction, before being extended to cover a 1·5 km route.
The trial aims to study how passengers and other road users react to the shuttle, which Keolis believes could be suitable for providing 'last mile' connections from existing public transport links in locations such as educational campuses, amusement parks and hospitals.
The vehicle can accommodate up to 15 passengers, and has a dedicated area for wheelchairs. It uses Lidar sensors, GPS, odometry and cameras to detect other vehicles and pedestrians in a mixed environment.
The trial is being undertaken by Keolis and supplier NAVYA along with the Ministry of Mobility & Transport, road safety institute Vias and the manager of the tourist caves. Keolis and NAVYA are also conducting trials with autonomous vehicles in France, the USA, Canada and Australia.