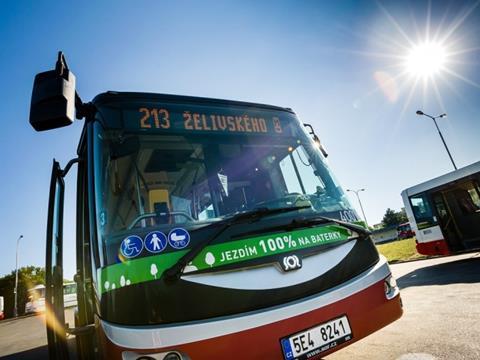 CZECH REPUBLIC: Testing of electric bus charging infrastructure in Praha began on October 10. A 1 km section of overhead line has been installed on Prosecká Street as part of the EU's Electrification of Public Transport in Cities (ELIPTIC) research project.
A 12 m long SOR TNB 12 Acumario battery trolleybus has started non-passenger-carrying tests along this section. It is envisaged that it will run on the 10 km route 140, which connects Palmovka and Letňany metro stations. Mostly running on batteries, it will using the overhead wire while on that section, and will charge its batteries using a short section of overhead line catenary at the terminus, with overnight charging taking place in the Klíčov garage using three-phase sockets.
In the longer term, an 18 m electric bus will be used on the route. Regular passenger services are planned to begin in early 2018.