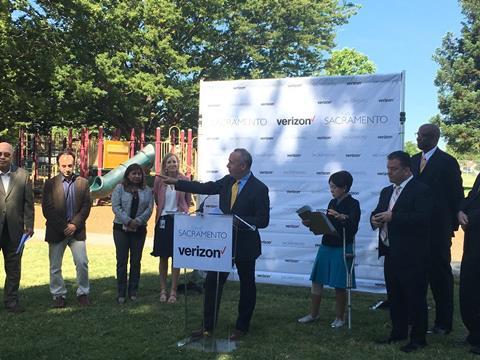 USA: Sacramento City Council voted unanimously on June 6 to approve a public-private partnership with Verizon to develop smart city infrastructure. Verizon expects to invest more than $100m as part of the project.
'This partnership will serve as a critical step in upgrading our city's infrastructure to support the newest and best technology and the economic growth that comes with that technology', said Mayor Darrell Steinberg. 'It will also ensure that everyone who lives here or spends time here can experience the benefits of a safer, more mobile and more sustainable city.'
Verizon is to provide signal control software at road junctions to improve traffic flow and help to reduce traffic deaths and injuries. The expected improvement in light rail and bus services would decrease congestion and reduce greenhouse gas emissions, according to the city.
Wi-fi-equipped digital kiosks are to be developed, with wayfinding and notice boards among the services available there.
Other smart city initiatives include the provision of free wi-fi in 27 public parks, developing 5G infrastructure and creating internships at technology companies to promote careers in STEM sectors.
Verizon would supply its Smart Communities platform to provide security, data and privacy management. 'This proposal not only underscores the city's commitment to putting its citizens first, but to providing them with the tools, engagement opportunities and innovation to drive digital equality and quality-of-life improvements', said Verizon's Vice President of Smart Communities Mrinalini Ingram.