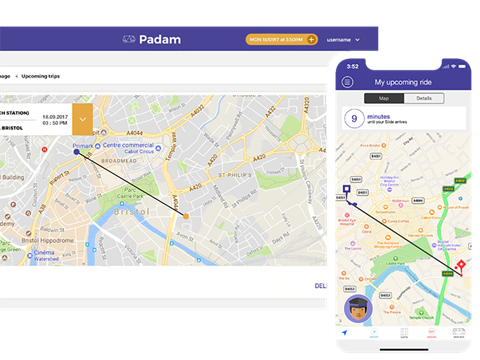 PADAM: Siemens Mobility has made a 'substantial' investment in Padam, which provides white-label software-as-a-service for managing on-demand transport operations.
Terms were not disclosed, and Padam will remain an independent and founder-led business.
'The investment in Padam represents our commitment to offering digital solutions that increase access to transportation information and a better passenger experience', said Siemens Mobility CEO Michael Peter on October 18. 'Through intelligent traffic solutions, ticketing and timetable integration with Padam's software, we will be able to offer expanded first/last mile transportation options. Together, Siemens Mobility and Padam will enable public transport operators to offer passengers a holistic and convenient commute from door-to-door.'
Paris-based Padam was founded in 2014, and its software is now used in cities including Orléans and Bristol. CEO Gregoire Bonnat said the investment by Siemens Mobility as well as by Setec Innovation had secured sufficient financing to further develop technology for the 'booming' demand responsive transport market.
'Our comprehensive and flexible technology supports operators and authorities to develop microtransit services in many different contexts, reflecting population, cost of operation, time constraints, congestion levels and efficiency of routes', Bonnat said.