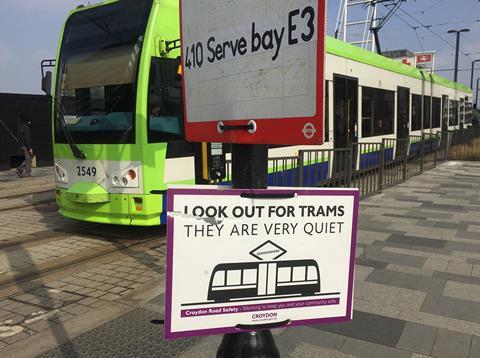 UK: Transport for London has begun early market engagement for the potential retrofitting of automated vehicle speed monitoring and driver vigilance devices to the Tramlink light rail fleet.
This follows a fatal accident on November 8 2016, when a tram travelling at approximately 70 km/h on a section of line with a speed limit of 20 km/h derailed on a curve at Sandilands Junction in Croydon. Seven passengers were killed and 51 injured.
TfL's London Trams division envisages that an Automatic Vehicle Speed Monitoring system could be fitted to ensure compliance with speed restrictions in place for specific locations and travel directions. The AVSM would generate an audible and visible alert to inform the driver if a tram exceeds the speed limit for a configurable duration, and would apply the brakes if the alert is not cleared within a specified time period or if the permitted speed is exceeded by a 'gross margin'.
The driver vigilance functionality could be a stand-alone system, or incorporated within or interfaced to the AVSM. It would generate a vigilance alert and inform the driver if no activity is detected for a configurable period, applying the brakes if the driver does not respond.
The control centre would be notified in near real time when alerts and interventions occur, with all data logged and operational reports generated to support investigations and analysis at end-of-shift or post-incident, and for long term monitoring. Status information must include location, actual and permitted speeds, direction, date and time, tram identity, driver identity, run number, driver log on/off event, brake intervention event and system health.
Any future installation contract would cover the Tramlink fleet of 23 Bombardier CR4000 and 12 Stadler Variobahn trams; the 24th CR4000 was badly damaged in the derailment.