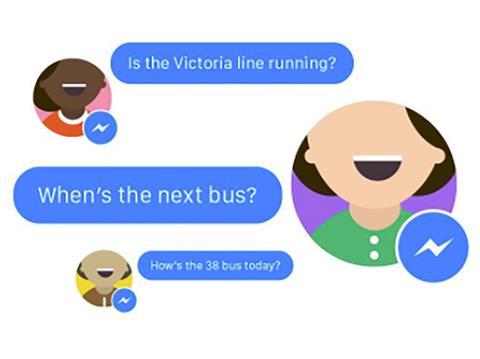 UK: Transport for London has launched an artificial intelligence driven Facebook Messenger chatbot.
TfL said it deals with a huge number of queries every day through its Facebook pages, and it hopes that the TfL TravelBot will make it easier for users to get information in a fast and straightforward way without needing to exit an app and switch to a browser.
TfL TravelBot features include:
Bus arrival information based on users sharing their location or providing the code displayed at every stop;
Bus route status, including information on diversions;
Service updates for London Underground, TfL Rail, London Overground, Docklands Light Railway and London Trams;
Underground and rail maps;
Referring users to a customer service agent.
TfL expects that as people use the service it will 'learn' and thus be able to offer better information. It developed the TfL TravelBot in-house, and is to explore the possibility of adding features including journey planning and status alerts.
'We think that this initial version will be a major step forward in how we provide travel information to our customers and we look forward to their feedback to help us improve the product over time', said Shashi Verma, TfL's Director of Customer Experience, on June 13.