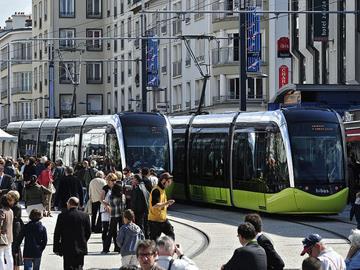 FRANCE: The municipality of Brest has selected RATP Dev to operate its local transport network from July 1 under a contract running until the end of 2027.
RATP Dev replaces Keolis as the concession holder responsible for managing the Breton city's 17 bus routes, a 14 km tram line, 29 school routes, an urban cable car as well as a bicycle hire service and transport for people with reduced mobility.
RATP Dev says that it plans to reconfigure the local transport network from September 2020 as the first step in a package of improvements that will be rolled out over the life of the contract. The bus fleet is to be renewed from 2021, with much greater provision of electric vehicles and electrification of the main depot. A second tram line of around 5 km and a bus rapid transit route are expected to open by the middle of the next decade linking central Brest with Lambézellec.
Other improvements planned by RATP Dev include roll-out of a mobility as a service app, the provision of a contactless open payments system, and development of 'big data' tools to 'optimise the network and combat fraudulent travel'. RATP also says that it intends to open an innovation laboratory in the city to work with the local start-up community.
The Brest contract marks a further expansion of the Paris municipal operator's activity in France. RATP Dev already runs local transport operations in Vannes and Lorient, and will begin running the network in Saint-Malo from September 1.