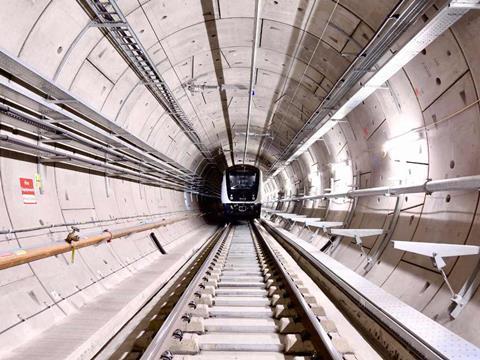 UK: The opening of the Crossrail tunnels under London has been delayed from December 2018 until 'autumn 2019', project promoter Crossrail Ltd announced on August 31.
The Paddington – Abbey Wood section of the future Elizabeth Line will open later than scheduled because the contractors need more time to complete fit-out and software development. This has led to testing running behind schedule.
Crossrail Ltd says that operations on the full Elizabeth Line from Reading and Heathrow Airport in the west to Shenfield and Abbey Wood in the east are to begin 'as soon after the central tunnels open as possible'. This was originally scheduled for December 2019.
Transport for London has already taken over services from Liverpool Street to Shenfield in the east and from Paddington to Heathrow in the West. Class 345 electric multiple-units being supplied by Bombardier are in service on these routes, alongside older rolling stock. The new EMUs are still undergoing tests in the Heathrow tunnels.
Once the central tunnels open, services will initially run from Paddington (low-level) to Abbey Wood, from Paddington (high-level) to Heathrow and from Liverpool Street (high-level) to Shenfield. Through running would be introduced later.
'The Elizabeth Line is one of the most complex and challenging infrastructure projects ever undertaken in the UK and is now in its final stages', said Crossrail Chief Executive Simon Wright. 'We are working around the clock with our supply chain and TfL to complete and commission the Elizabeth Line.'