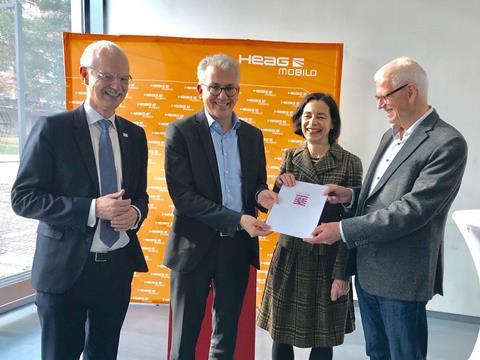 GERMANY: The Land of Hessen has agreed to provide Darmstadt transport operator HEAG Mobilo with €12·3m towards the €19·6m cost of extending the tramway to Technischen Universität Darmstadt's Lichtwiese campus, Economics, Energy & Transport Minister Tarek Al-Wazir confirmed on November 28
The 1·1 km double track extension would run from Hochschulstadion to serve new stops at Kletterhalle and TU-Lichtwiese/Mensa where there would be a turning loop. Construction is expected to get underway in July 2019 and take two years.
'In the future, trams will run on this busy route instead of diesel buses', said Al-Wazir, adding that trams have a higher passenger capacity and 'are perceived by many people to be more attractive than buses', which would encourage people to switch modes.