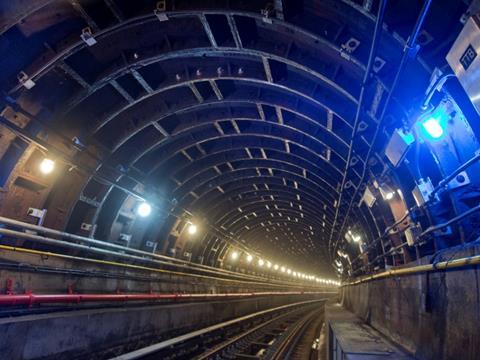 USA: New York Metropolitan Transportation Authority announced on January 3 that it had accepted a series of recommendations put forward by academics and engineering specialists to limit the disruption of a planned rebuilding of the Canarsie/L Subway line's tunnel under the East River between Brooklyn and Manhattan.
The Canarsie/L Subway line serves a number of densely populated districts in Williamsburg and Brooklyn which are not easily accessible by other Subway lines or bus and ferry services. However, the twin-bore East River tunnel was severely damaged by the effects of Superstorm Sandy in November 2012, and MTA had spent several years preparing a total closure lasting 15 months to reconstruct it. The shutdown was planned to start in April.
However, amid significant local concern about how alternative transport options might be provided to replace a tunnel carrying 400 000 passengers/day, in late December New York State Governor Andrew Cuomo intervened to try to prevent a complete shutdown of the metro line. He appointed a panel of academics drawn from Cornell University's College of Engineering and Columbia University's Fu Foundation School of Engineering & Applied Science to review MTA's proposals, with a view to revising the rebuilding approach so that some trains could run during the work.
The resulting report determined that a complete closure of the tunnel is unnecessary. It presented a series of what MTA terms 'innovative engineering methods' to streamline the required repair work, which would be undertaken at nights and weekends only. A single bore of the 2·4 km tunnel would remain open during these, providing headways of around 15 min under single line working. The report suggested that the core rebuilding tasks in the tunnel could still be completed in a '15 to 20-month' timescale, and this has been accepted by MTA.
The revised proposals focus on limiting replacement of the tunnels' benchwall which runs alongside the track to provide access and carry power and signalling cables. This has in places been severely damaged by salt water ingress, and MTA had intended to renew it entirely using manual labour. The revised approach will see only the most damaged parts of the benchwall replaced, while all cabling will instead be directly mounted on the tunnel wall, reflecting international practice in metro construction. Sensors will be fitted to monitor the condition of the benchwall and other wayside components.
'We appreciate the dedication and the analysis provided by this group of experts', said Acting MTA Chair Fernando Ferrer. 'We have a shared goal in this effort: to make sure New Yorkers are subjected to the least possible disruptions as a result of this necessary repair work.'