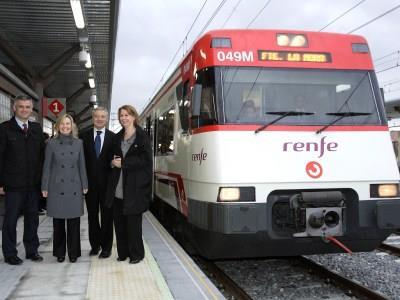 SPAIN: On April 5 Development Minister Íñigo de la Serna unveiled a 2018-25 investment plan for Madrid's Cercanías suburban network, the result of a year-long study by the Ministry of Development, infrastructure authority ADIF and train operator RENFE. To improve reliability and service quality, the plan has an investment budget of €5∙09bn, of which €2∙27bn is to be spent by ADIF and €2∙82bn by RENFE.
In the short term, €580m is to be spent on a series of urgent measures in 2018-19, including €243∙5m for new rolling stock and €81m to refurbish the existing EMU fleet. Infrastructure upgrades are to receive €200m, and station improvements €45∙8m.
Longer-term, improvements have been grouped under nine categories, the first four of which will be the responsibility of ADIF. In 2018-25 €432∙5m is to be spent on improving infrastructure reliability, including track and overhead line renewals, resignalling and the installation of ETCS. The major project will be installing slab track and rigid catenary in the cross-city tunnel connecting Atocha and Chamartín stations, used by 250 services a day.
Capacity improvements are to receive €545∙8m. They will include remodelling the track layouts at Chamartín and Atocha, quadrupling the double-track section between Pinar de las Rozas and Villalba, and widening from two to four tracks the eastern belt route from Chamartín to San Fernando de Henares via Fuente de la Mora.
Under the third strand of the plan, €383∙3m has been budgeted for stations, including €36∙7m to build new stations at Las Rejas, Recintos Feriales, La Tenería and Imperial. In a continuation of the existing refurbishment programme, ADIF and RENFE are to spend €346∙6m to refurbish 88 stations on the Madrid suburban network in 2018-25.
Extending the network has been allocated €1∙06bn, which includes the first two phases of a new east-west cross-city route running from San Fernando de Henares to Príncipe Pío, serving new underground stations at Canillejas, Avenida de América and Alonso Martínez. An initial budget of €297∙6m has been set for other extensions, which given their high cost are to be prioritised on the basis of potential demand, taking into account the findings of a travel survey due to be published in the last quarter of 2019.
RENFE is to spend €342m on improving the reliability of its existing fleet in 2018-25, with a particular focus on current collection, while €2∙28bn has been budgeted for the purchase of 172 new trainsets, expected to provide more capacity while reducing energy consumption. Maintenance facilities at Fuencarral, Humanes, Móstoles and Príncipe Pío are to be upgraded at a cost of €42∙7m.
Service frequencies are to be increased to meet growing demand, with trains to operate every 4 min in the peaks on route C5, the busiest on the Madrid network. Under the final strand of the 2018-25 investment plan, €23∙6m is to spent on improving customer service and passenger information, including the roll-out of contactless smart cards, better apps and personalised Twitter alerts to warn passengers of disruption.