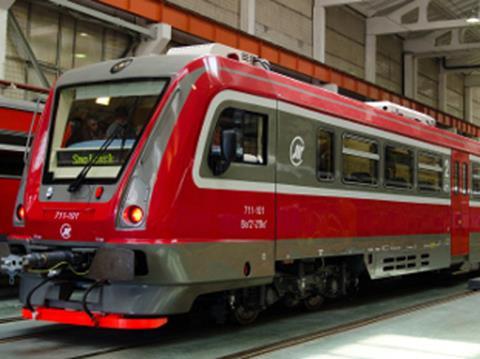 SERBIA: Contracts for additional diesel multiple-units and the upgrading of three sections of Trans-European Corridor X were signed by Serbian Railways and the RZD International subsidiary of Russian Railways on October 16, during a visit by Russian President Vladimir Putin to Serbia's President Tomislav Nikolić.
A US$100m agreement covers the supply of a further 27 Metrovagonmash DMUs, plus spare parts worth $2·6m. The 120 km/h DMUs will have CCTV, air-conditioning, toilets and provision for access from low or high platforms and by persons with reduced mobility. Deliveries are planned to start in eight months and be completed with 15 months.
A second agreement worth US$48·7m covers modernisation of the Sopot Kosmajski – Kovačevac (18 km), Mala Krsna – Velika Plana (29 km) and Ruma – Golubinci (18 km) sections of Trans-European Corridor X to enable speeds to be raised from 30 km/h to 120 km/h. RZD International said it would 'apply advanced Russian technologies to significantly reduce the time it will take to reconstruct the railway'.
The agreements build on a 2013 deal for various infrastructure works and DMUs to be funded by a US$800m Russian export loan. On October 10 a contract was signed for the double-tracking of the Stara Pazova – Novi Sad section of the Beograd – Novi Sad route by 2017 under this agreement. ZS said the modernised route would be the first in the region to be suitable for 200 km/h running.