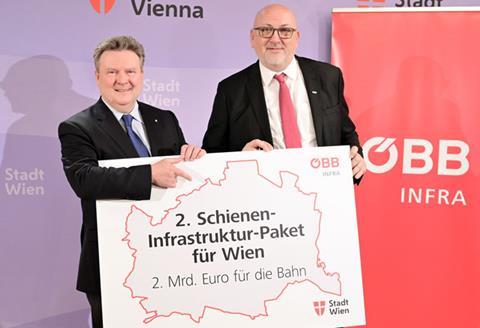 AUSTRIA: Proposals for a €2bn package of infrastructure enhancements to expand the capital's S-Bahn network were unveiled by the Mayor of Wien Michael Ludwig and ÖBB CEO Andreas Matthä on December 3.
Ludwig pointed out that the city's population is expected to reach 2 million by 2027, and that the number of passengers using S-Bahn services has been rising rapidly. The network is now carrying 89 million passengers a year.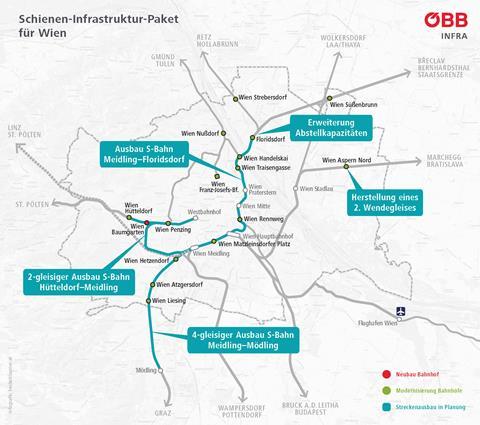 The Second Rail Infrastructure Package is intended to follow on from the projects in the first package adopted in 2016, several of which are currently under construction. According to Matthä, the majority of the projects in the second package would be finished by 2026-27, and the remainder by the early 2030s. The start of work must await agreement over the financing, with negotiations expected to begin in 2020. The usual model sees the federal government contributing 80% and the remaining 20% coming from local authorities.
By far the biggest proposal in the package is quadrupling of the 11·8 km section of ÖBB's Südstrecke main line between Wien Meidling and Mödling, which is priced at €1·2bn, including the construction of new stations at Brunn Europaring and Tullnertalgasse. The two extra tracks would provide capacity for 12 S-Bahn services per hour in each direction.
The 13·2 km Wiener Stammstrecke between Meidling and Floridsdorf would be fully modernised and equipped with ETCS Level 2, while station platforms would be extended to 220 m. This would increase capacity of the cross-city S-Bahn core from the current 700 trains per day to 900, providing for future ridership growth.
The 1·9 km single line connection between Hütteldorf and Penzing would be doubled, with a new station to be built at Wien Baumgarten. This would allow S-Bahn route S45 to operate at 15 min intervals in each direction. A second reversing siding at Aspern Nord would enable similar headways to be provided on route S80, while the stabling sidings at Floridsdorf would be expanded to accommodate an extra 40 trainsets. The package also envisages the modernisation of 12 stations, including Matzleindsdorfer Platz, Handelskai, Liesing and Franz Josefs Bhf.
Feasibility studies will be undertaken for capacity enhancement on a 15 km section of the Laaer Ost line between Wien Hbf, Simmering and Süßenbrunn, and for a potential extension of route S45 from Handelskai to Praterkai. Also in the early stage of planning is a second cross-city S-Bahn axis, which would connect Wien Hbf with the northwestern suburbs around Heiligenstadt; several route options are currently under consideration.
Pottendorfer line
Meanwhile, ÖBB is investing €680m in upgrading the Pottendorfer line which connects Meidling with Ebenfurth and Wiener Neustadt. It expects to start routing long-distance trains to Graz, Klagenfurt and Villach over this line from 2023, freeing up capacity on the Südstrecke for more frequent suburban services. The route will be cleared for 200 km/h operation between Inzersdorf Ort and Wampersdorf and 140 km/h from there to Wiener Neustadt.
On November 22 a 9·4 km section of double track was commissioned on the Pottendorfer line between Hennersdorf and Münchendorf. Work is due to start in 2020 on doubling and realignment of the 11·8 km from Münchendorf to Wampersdorf; this is due for completion by 2023, along with a new station at Ebreichsdorf.