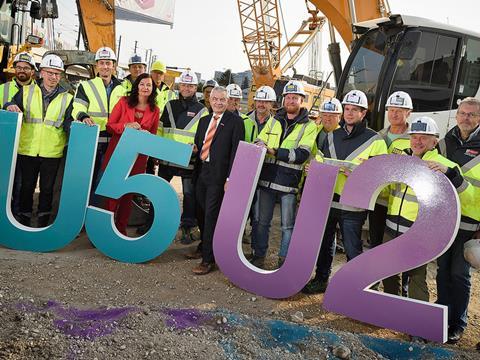 AUSTRIA: A groundbreaking ceremony at the site of the future Matzleinsdorfer Platz station on October 8 marked the start of work on the reconfiguration of Wien metro Line U2 and new driverless Line U5. The event was attended by Transport Minister Norbert Hofer, Deputy Mayor Maria Vassilakou, city transport senator Ulli Sima and Wiener Linien CEO Günter Steinbauer.
Under the U2xU5 project, the site of the U2 station at Matzleinsdorfer Platz will initially be used as a launching shaft for the tunnel boring machines that will excavate new tunnels northwards to Augustineplatz. These will allow the diversion of the southern end of Line U2 to Matzleinsdorfer Platz in 2024, freeing up the existing Karlsplatz – Rathaus section to form part of the new Line U5 serving the northwest of the city.
Construction of the future U5 station at Frankhplatz-Altes AKH is expected to begin in February, while work on the future U2-U4 interchange at Pilgramgasse will begin in mid-2019 during a partial blockade of U4 for refurbishment.
Siemens has been selected to supply the rolling stock for the project under a contract signed in 2017.
Planning is expected to start next year for a further extension of U2 from Matzleinsdorfer Platz to Wienerberg, taking the new section to 6 km and six stations. Planning is already underway for the second stage of U5, which would continue the route beyond Frankhplatz-Altes AKH to Elterleinplatz, adding a further three stations.