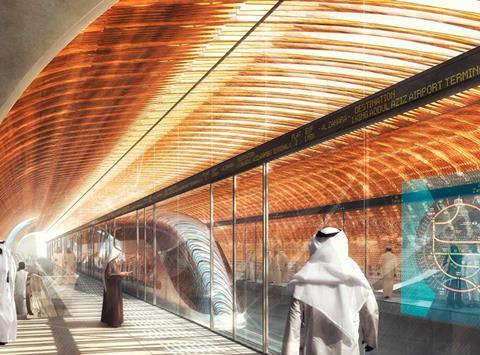 SAUDI ARABIA: Public transport project promoter Metro Jeddah Co has invited initial expressions of interest in the civil works contract for the future metro network, prequalification for a separate contract to design and build its planned light rail and tram lines, and the provision of overall project management services.
Metro Jeddah is seeking to gauge the capacity of the construction market to undertake the metro project, with would include four lines and involve extensive tunnelling. The authority will consider the technical capabilities, financial strength and local experience of the consortia which respond, but it is not undertaking the pre-qualification process at this stage.
In a separate procurement, consortia are invited to prequalify for a contract to design, build and supply rolling stock for three light rail lines and one tram line.
The light rail network would total 39 km of double-track on three east - west lines running along Sari Street, Tahlia Street and Palestine Road, with around 43 stations and 65 trainsets.
The double-track Corniche Tramway would run 16 km along the coast from the Globe Roundabout in the north to a terminus near Tahlia Street, with 15 stops and a fleet of around 11 trams.
The project and construction management consultancies would provide the management and technical expertise for monitoring the delivery of the works and ensuring compliance with the promoter's requirements.
The projects are part of Phase 1 of the Jeddah Transportation Master Plan, which is designed to meet the strategic transport needs of the city by 2020 and support sustainable 'liveable city' development. A second phase running to 2033 would cover local transport requirements specified in the Jeddah City Structure Plan.
The master plan also includes local bus and bus rapid transit services, ferries and water taxis, and a suspension bridge over Obhur Creek.
Jeddah Transportation Master Plan Phase 1
Line
Stations
Tunnel, km
Elevated, km
At-grade, km
Depots
Metro
Red Line: north - south, along King Abdulaziz Road and King Abdullah Road
24
15
45
0
5
Blue Line: city centre - airport
19
7
27
0
Green Line: through the city centre
12
14
4
0
Orange Line: north - south, along Al Madinah Road and Old Makkah Road
30
8
37
0
Light rail transit
Three east-west lines on Sari Street, Tahlia Street and Palestine Road
43
0
9
29
3
Tram
Corniche Tramway: north - south line along the coast from Globe Roundabout to near Tahlia Street.
15
0
0
16
1