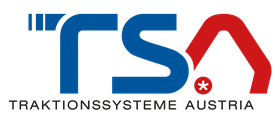 Address:
Traktionssysteme Austria GmbH
Brown-Boveri-Straße 1
2351 Wiener Neudorf
Austria
Tel: +43 2236 8118-0
Fax: +43 2236 8118-237
Email: office@tsa.at
Website: www.tsa.at
Innovative. Independent. Impassioned.
Traktionssysteme Austria is the leading, independent manufacturer of electromechanical equipment powering railway rolling stock with a company history reaching back as far as the 1960s.
We develop solutions for rolling stock and road transport vehicles that are tailored to your specific requirements, starting from the offer through to our Long-Life Value Service, from the initial design drawings through to final delivery. The focus is always on our customers' desire for a comprehensive approach based on electrical and mechanical criteria. Our way of working is time-saving and cost-effective. TSA is your only contact for any questions you may have about motors, gearboxes, drives and generators. The close proximity between our design department and our production and testing facilities is one of our many advantages, as is our in-house engineering department. We also use state-of-the-art technologies and tools to develop our motors, gearboxes, drives and generators. Put your trust in our expertise as a full-range supplier and take advantage of our extensive in-house offers. Stay on the right track with us!
Video:
TSA Traktionssysteme Austria (from Railway Gazette Group: LIVE & Interactive Broadcast Week)
(registration required)