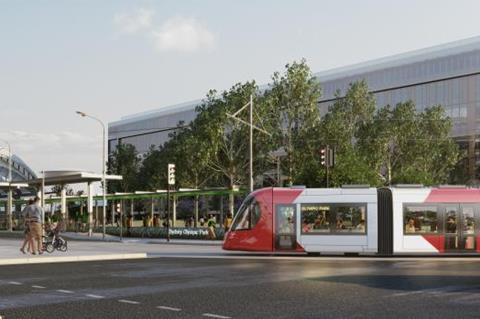 AUSTRALIA: The New South Wales government has confirmed A$602·4m of funding to enable the start of detailed planning and preliminary works for Stage 2 of the Parramatta Light Rail project in western Sydney.
Tracklaying was recently completed for the 12 km, 16-stop Stage 1 connecting Westmead to the Parramatta CBD, Camellia and Carlingford. This route is scheduled to open in 2023.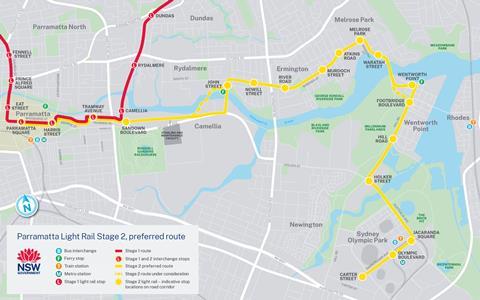 Stage 2 will be a 10 km branch with 15 stops linking central Parramatta to Ermington, Melrose Park, Wentworth Point, Sydney Olympic Park and the Carter Street Precinct. It will connect with the future Sydney Metro West and rail services at Parramatta and Sydney Olympic Park, and with ferry services at Rydalmere and Sydney Olympic Park.
The funding announced on June 1 will enable detailed planning, with an environmental impact statement to be released for comment by the end of the year, and will also allow the start of preliminary works including construction of the M Wentworth Point bridge.
The confirmation of funding 'provides much-needed certainty for this critical project', said Australasian Railway Association CEO Caroline Wilkie. 'Light rail projects like this are uniquely positioned to drive urban renewal and increased land values and can be the launching pad for further development in the community.'
Wilkie said having a clear pipeline of upcoming projects 'is vital to supporting workforce planning and building skills capability throughout the industry'.