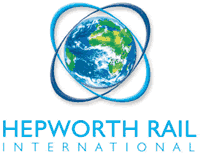 Address:
4 Merse Road
North Moons Moat
Redditch B98 9HL
United Kingdom
Tel: +44 1527 61243
Fax: +44 1527 66836
Email: rail@b-hepworth.com
Website: www.b-hepworth.com
Hepworth Rail International, a division of B Hepworth & Co, is the international market leader for the design, manufacture and supply of window wipers, washer equipment and associated control systems.
Hepworth is accredited with internationally recognised rail approvals and standards such as IRIS 2, ISO:9001, EN15085 and, using innovative design and following structured development criteria, we ensure that we constantly drive though improvements to overall safety, quality and reliability.
The Hepworth Group has a worldwide network of over 20 agents and distributors. We deliver spares and systems to customers in more than 50 countries, offering a truly global service.
Latest news:
Also see videos:
Products
Traction & Control

Control

Supporting documents
Click link to download and view these files