Ming Tai Industrial Co., Ltd.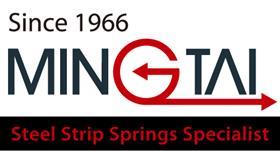 No. 250, Sing Jhong Road, Tamsui, New Taipei City 251, Taiwan
Tel: 886-2-26228651
Fax: 886-2-26220202
E-mail: mtis@powerspring.com.tw
Ming Tai Industrial Co., Ltd, is a professional manufacturer of steel strip spring. The company was founded in 1966. Today Ming Tai has factory area of approximate 5600m2, and equips with various special precision steel-strip spring forming machine to support production.
Product categories of Ming Tai include constant force spring, constant torque spring, constant force spring for carbon brush, power spring and variable force springs. Each manufacturing procedure including steel strip slitting, heat treatment, edge trimming and forming process is consistent production and completed in-house to ensure highest quality requirement.
Most of specific computerized production machinery is built by Ming Tai in-house machine shop, which enables Ming Tai to produce wide variety steel strip springs and to meet all kind industrial applications. Ming Tai has precision instruments to do force, torque, product life testing to ensure the stable quality. Ming Tai is certificated with ISO 9001: 2008 and RoHs.
Ming Tai stocks sufficient and variety raw material enable us to provide customer with prototyping and running mass production rapidly. It shortens lead times for customer and help customer to makes the new products on time to market!
Ming Tai is capable of serving customer from the technical support in develop procedure, prototype, to trial run, mass production, spring mounting and assembly.
Buyers' Guide categories
Components > Passenger > Windows, Heating/ventilation/air-con
Components > Bogies & Running Gear >Wheels/wheelsets/axles, Axleboxes/bearing
Traction & Control > Diesel/Thermal > Engine components/spare, Traction Motor, Generators, Mechanical equipment, Cooling equipment
Supporting documents
Click link to download and view these files