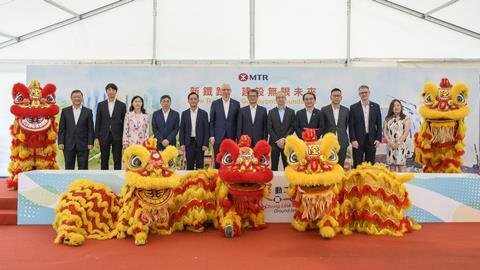 CHINA: Hong Kong's MTR Corp held a groundbreaking ceremony on May 25 to mark the official start of main works for a project to realign and extend the Tung Chung Line.
The two major civil works contracts have been awarded for the project. A joint venture of Bouygues and Dragages is to build the 1·3 km western extension of the line and the new Tung Chung West station.
A joint venture of Paul Y and CRCC is to divert 1·2 km of existing line between Tung Chung and Sunny Bay stations and build a station at Tung Chung East to serve an area of newly reclaimed land.
Alstom is to supply SACEM automatic train control and Smartlock 400 interlocking technology, while its CASCO Signal joint venture will supply the automatic train supervision subsystem.
The project will support the developments which are expected to see the area's population grow to 290 000 people.
'The team is keen to explore and adopt new technologies in the project, as well as to include elements of sustainable development to achieve better quality and greater efficiency of works', said MTR Corp CEO Dr Jacob Kam. 'Despite the challenges of carrying out construction works on an operating railway line, we will work collaboratively to move the project forward and extend the railway network with the commitment to provide reliable, efficient, and low-carbon railway services to serve more Hong Kong citizens.'
Meanwhile, construction of the Tuen Mun South Extension, Kwu Tung Station on the East Rail Line and Oyster Bay station is also planned to commence later this year. Legal processes or preparatory works are proceeding for the Northern Link Main Line, Hung Shui Kiu station and the Airport Railway Extended Overrun Tunnel.