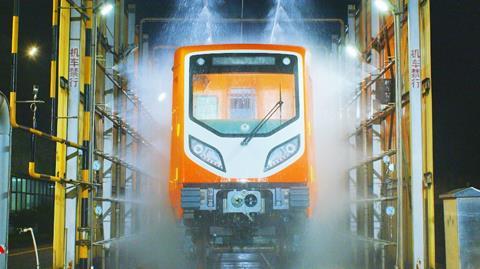 MEXICO: The first of 29 trainsets which CRRC Zhuzhou Locomotive is supplying as part of the modernisation of Mexico City metro Line 1 was rolled out on July 18.
The event was marked by a hybrid ceremony in both Mexico and China, attended by the city's Mayor Claudia Sheinbaum, STC Director General Guillermo Calderón Aguilera, and Chinese Ambassador Zhu Qingqiao.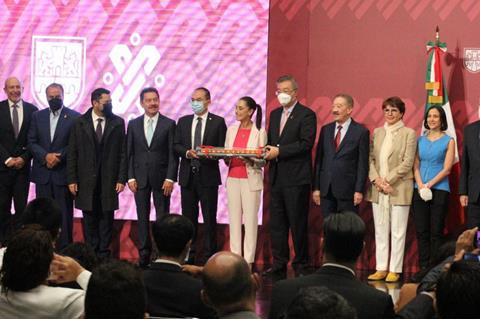 Designed to operate at a maximum speed of 80 km/h, the nine-car rubber-tyred trainsets are 150 m long with a crush capacity for 2 200 passengers including 300 seated and 1 900 standing at 10/m2.
Aguilera told local media that the 'tailor-made' trains were fitted with 'advanced safety and reliability systems', and an improved ventilation and air-conditioning system. They would also would be more environmentally friendly and offer better energy performance thanks to the use of regenerative braking.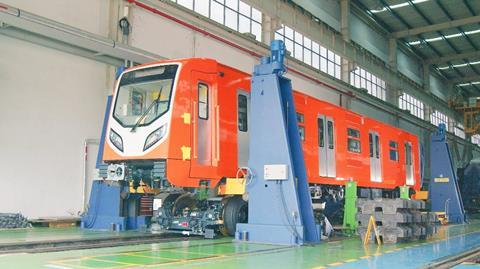 While the first trainset was manufactured and tested in China, the remaining 28 are to be assembled at a plant in Querétaro state with the support of Mexican companies, as the contract awarded specifies 65% local content.
Noting that CRRC had committed to training Mexican workers, Sheinbaum said the project would 'transfer technological know-how from China to Mexico, and boost employment in our country'.
PPP concession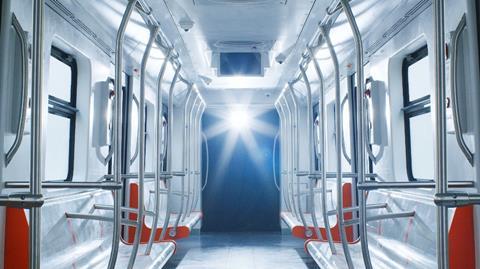 Line 1 is the capital's oldest and busiest metro line, running from Pantitlán in the east to Observatorio in the west. The 16·7 km line with 20 stations was opened in stages between 1969 and 1984.
It is being comprehensively modernised under a 19-year PPP concession tendered in June 2020, which allows four years for the refurbishment followed by 15 years of operation to the end of 2039. The contract was awarded in December 2020 to CRRC Group and CRRC Zhuzhou which bid 32·2bn pesos against a reported 46·7bn pesos rival bid from CAF and AEI Infrastructure which was subsequently withdrawn.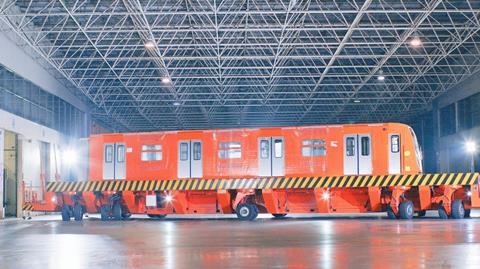 The project includes extensive track renewals and replacement of the drainage system, as well as the introduction of CBTC to replace life-expired signalling. Last year CRRC awarded Comsa an €80m contract to undertake track and electrical system renewals covering a total of 39 track-km including loops and sidings. Thales has been selected to supply the Seltrac CBTC.
Services on eastern section of Line 1 between Pantitlán and Salto de Agua were suspended for eight months from July 11 to facilitate the infrastructure reconstruction, which is expected to take three years in total.