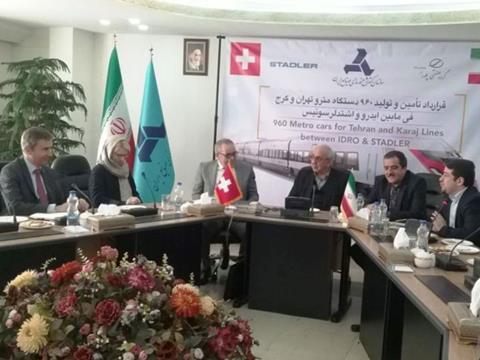 IRAN: A deal for Stadler Rail to supply rolling stock for two of the country's metro networks is expected to collapse as a result of US President Donald Trump's decision to pull out of the 2015 nuclear limitation agreement and reimpose sanctions.
At the end of February, the official Iranian news agency IRNA reported that Stadler had signed an agreement with the Iranian Organization for Industrial Development & Renovation to deliver 960 metro cars with an estimated value of around SFr1·3bn. This covered 728 vehicles for Tehran and 232 for Karaj, with deliveries expected to start in 2020. The company subsequently clarified that it held an exclusive letter of intent, but emphasised that the final contract remained to be negotiated, although it had received an export licence and risk insurance from the Swiss government.
Stadler's Deputy CEO and Head of Marketing & Sales Peter Jenelten told local media on May 26 that the Swiss manufacturer had 'put the project on hold' in the light of the US sanctions. With the deal expected to collapse as a result, he anticipated that the order would now go to Chinese suppliers, who had previously manufactured metro and suburban trainsets for Tehran.
'The Iranians cannot wait forever', he said. 'That's why the Chinese are likely to take the metro car order away from us.' As current President of the Swissrail industry association, Jenelten said it was particularly 'frustrating that all these efforts have now been for nothing'.