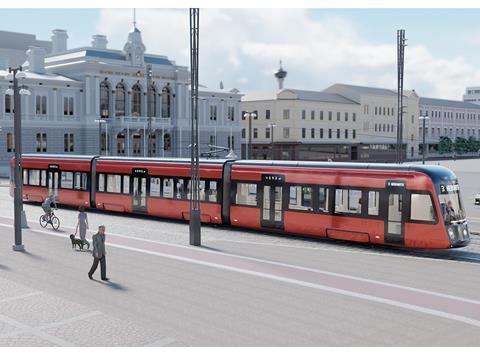 FINLAND: The appearance of the trams which Škoda Transportation is to supply for the future Tampere tramway has been finalised.
In 2017 the city council announced a €104m firm order for Škoda Transportation subsidiary Transtech to supply 19 ForCity Smart Artic trams, with options for up to 46 more. The supplier is to provide 10 years of maintenance with an option for a further 30 years.
The 1 435 mm gauge three-section bidirectional low-floor trams will be 37 m long with capacity for 264 passengers at 4/m2.
The styling is intended to be 'inviting yet resolutely going forward' and 'unpretentious, authentic and pragmatic, reflecting the spirit and values of the city of Tampere'. The vehicles are also expected to be 'soft, functional and stripped of anything of excess.'
Light blue and red liveries were put to a public vote, with 59% of the 23 600 votes cast favouring red.
Production of the trams is scheduled to begin next year, ahead of the completion of the 15 km first phase of the tramway in 2021.