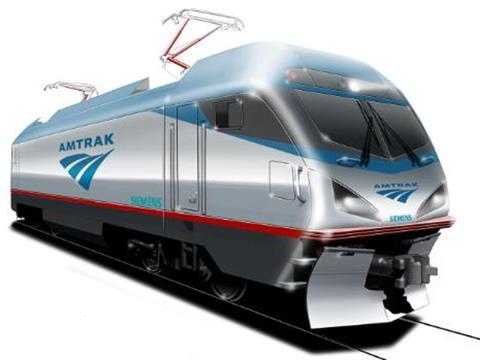 USA: Siemens Mobility has won a $466m order to supply Amtrak with 70 ACS64 'Amtrak Cities Sprinter' electric locomotives with a top speed of 200 km/h, the supplier announced on October 28.
Deliveries are scheduled to run for six years from 2013, with the locomotives being deployed on the Northeast Corridor and Keystone Corridor as part of Amtrak's programme to reduce journey times and increase service reliability.
The Amtrak Cities Sprinter will be a version of Siemens' Eurosprinter family adapted to meet FRA crashworthiness requirements, incorporating redesigned crumple zones, an enhanced cab safety cage and anti-climb features, which will bring an increase in weight.
The locomotives will be rated at 6·4 MW and able to run on 25 kV, 12·5 kV and 12 kV AC supplies, with regenerative braking. To ease maintenance it will be possible to remove the traction motors and wheelsets without lowering the bogies.
To meet Buy America regulations the locomotives will be produced at Siemens' light rail vehicle plant in Sacramento, California, with the Alpharetta and Norcross plants in Georgia supplying traction motors and propulsion equipment.
'This order for the Cities Sprinters is our first opportunity to supply a Siemens locomotive to the American locomotive market, the second largest market in the world', said Siemens Mobility CEO Hans Jörg Grundmann. 'This order shows that we are capable of offering the right solutions for regional and long-distance passenger rail service in the USA'.
The order comes under Amtrak's long-term plan to replace 334 locomotives and 1 200 coaches. 'Modern locomotives are essential to meet the service reliability expectations of our passengers and for us to handle the growing ridership demand in the coming years', said President & CEO Joseph Boardman.