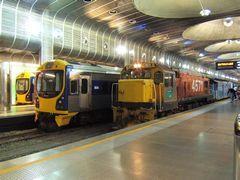 NEW ZEALAND: National infrastructure manager Ontrack has selected Invensys Rail Group to supply and install ETCS Level 1 train control equipment for its Auckland metropolitan area resignalling, in conjunction with the modernisation and electrification of the suburban network. This is the first application of the European Rail Traffic Management System in New Zealand.
Under an A$75m contract awarded to Westinghouse Rail Systems Australia, the equipment is to be installed over 30 months. As well as the ETCS Level 1, providing cab signalling and ATP as an intermittent overlay to lineside signals, WRSA will install its service-proven Westrace Mk II modular solid-state interlockings, minimising the amount of lineside infrastructure and cabling required.
In addition, Invensys Rail Group will provide its SystematICS train management system to support automatic route setting, with two independent control centres. All tracks are to be equipped for bidirectional working, providing operational flexibility and additional capacity for both passenger and freight trains.
WRSA says it will work with local contractors to undertake civil construction and electrical installations, providing ongoing support from its offices in Auckland and Australia. The company will also provide training for Ontrack staff to maintain the trackside and on-train systems.
According to Ontrack Project Director Murray Hood, WRSA will reduce on-site installation time and minimise disruption to current train operations by installing and testing the new systems in parallel to the old signalling.