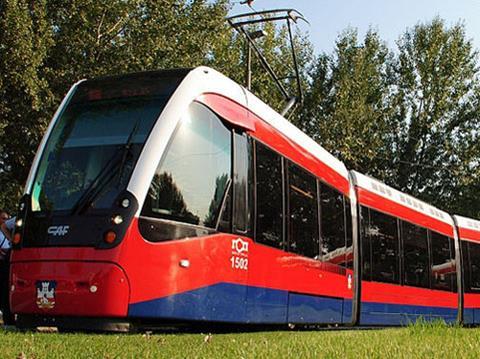 UK: Having received bids submitted from 'all over the world, not just Europe', on February 2 West Midlands transport authority Centro named CAF as preferred bidder to supply new trams to replace the existing Midland Metro fleet and provide additional capacity on the 21 km light rail route linking Birmingham and Wolverhampton.
The contract for 19 five-section Urbos 3 trams with options for up to six more is expected to be signed within six weeks, and will be worth 'in the region of £40m'.
The new vehicles will replace the 16 Ansaldo cars supplied for the opening of the line in 1999, and will provide additional capacity to meet the predicted increase in demand when the 1·3 km extension to New Street station in central Birmingham opens in 2015.
Scheduled to enter service from late 2014, the five-section air-conditioned cars will have a capacity of around 200 passengers, compared with 156 on the current fleet. There will be two wheelchair spaces.
Similar Urbos 3 cars are in use in Zaragoza, where they are built by CAF, and also in Sevilla and Beograd.
Centro Chief Executive Geoff Inskip outlines his vision for rail investment in the West Midlands in the February 2012 issue of Railway Gazette International, which is available to subscribers via our digital archive.