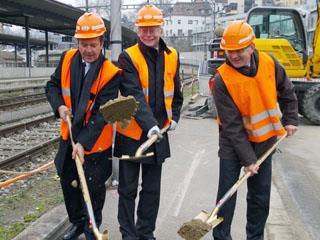 SWITZERLAND: A ceremony on January 26 marked the official start of construction work for the Schaffhausen S-Bahn project, a programme of infrastructure upgrades which will enable the provision of a half-hourly local train service, increasing to every 15 min in the peaks.
An extra platform is to be provided at Schaffhausen station, a new station will be opened at Neuhausen Zentrum to serve an industrial area and the Rhine Falls, and a new bay platform at Jestetten will provide turnback facilities.
The Deutsche Bahn line to Schaffhausen will be doubled and electrified as far as Erzingen, the stations at Thayngen and Herblingen modernised with improved accessibility, and a new station opened at Beringerfeld.
Scheduled for completion by December 2015, the SFr75m project is being financed by the canton of Schaffhausen and local authorities as well as the federal infrastructure fund. It is also benefiting from works undertaken as part of a wider railway upgrading programme in eastern Switzerland.