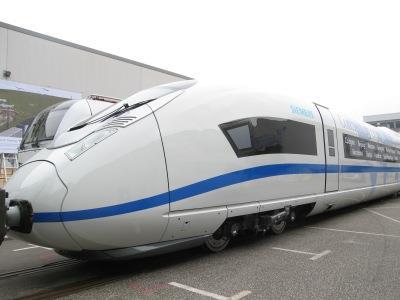 EUROPE: Recently-restructured cross-Channel operator Eurostar International is understood to have selected Siemens as preferred bidder to supply additional trainsets to operate an expanded route network, with the decision due to be confirmed at a board meeting on October 1.
Eurostar has been looking for some time at introducing services to Amsterdam and Köln, particularly in the light of Deutsche Bahn's objective of operating from Frankfurt to London by 2013.
Having decided that it would not be possible to fit its existing power cars with additional train protection equipment, Eurostar invited tenders from Alstom and Siemens through the Link-up system, bypassing the need for a separate OJEU notice.
Following tender evaluation and best and final offers, Siemens was selected as preferred bidder in June. The contract is expected to cover a fleet of 10 trains derived from Siemens' Velaro platform, costing €600m. These would be around 400 m long, like the existing trains, and would not be the same as the eight-car Velaro D sets which DB is hoping to operate to London, subject to getting approval from the Intergovernmental Commission to run 200 m long trains through the Channel Tunnel.
The Siemens design is understood to meet TSIs and the Channel Tunnel safety rules, subject to the final abolition of the now-redundant splittability requirement. The IGC is still discussing fire suppression requirements for trains with distributed traction, which would include Alstom's AGV as well as the Velaro.
However, there are reported to be concerns from the French government about a company majority-owned by SNCF looking to buy trains from a non-French supplier. Railway Gazette International understands that there has been pressure for the IGC not to permit the use of distributed traction through the Tunnel.
Compliance with the Channel Tunnel rules is a vital component in funding the deal, as the banks would need certainty that expensive trains would not be held in store due to acceptance issues. It is believed that the French authorities see fostering uncertainty as a way to delay the procurement.