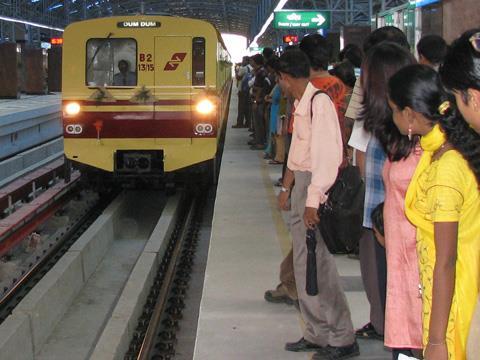 INDIA: A 2·8 km extension of Kolkata's north-south metro line from Kavi Nazrul to Kavi Subhash was officially inaugurated by Railways Minister Mamata Banerjee on October 7.
Named after Indian poet Subhash Mukhopadhyay, the terminus at Kavi Subhash serves the New Garia district to the southeast of the city. Opening of the short section completes the southern extension from Tollygunge on which work began in 1999; the remainder was opened in August 2009. The extension brings the total length of the route between Dum Dum and New Garia to 25·1 km.
Work began earlier this year on a 5·2 km elevated extension from Dum Dum to Noapara and Baranagar at the northern end of the line, but no timescale has been set for completion of this Rs2·5bn project. Construction of the 15 km east-west line under the Hooghly river linking Howrah and Sealdah began in February 2009 for completion around 2014.
The foundation stone for a 17 km third route running south from BBO Bagh in the city centre to Joka was laid by President Pratibha Devisingh Patil on September 22. Expected to cost around Rs26bn, this elevated line along the Diamond Harbour Road corridor to the southwest is expected to be completed by 2014.
During her visit, Banerjee also sampled the first air-conditioned trainset for the metro. Two sets have now been delivered from Integral Coach Factory in Chennai. Ordered in 2008 at a cost of Rs370m each, the new trains were originally expected to arrive by the end of 2009. The first unit entered revenue service on October 8, and will initially operate a limited shuttle between Tollygunge and New Garia for a month before being deployed on the entire route.