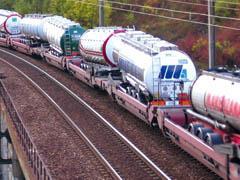 EUROPE: The Inter-Governmental Commission which regulates safety in the Channel Tunnel has approved the use of Modalohr piggyback wagons, Eurotunnel announced on November 21.
The decision would enable planned Autoroute Ferroviaire Atlantique piggyback services to be extended to the UK, 'potentially bringing significant new traffic'.
Autoroute Ferroviaire Atlantique is proposed to link Irún in Spain with Paris and Lille. It would use the Modalohr articulated wagons built by LOHR Industries, which are designed so that lorries can be driven onto trains at special terminals. No date is being announced for the start of services to the UK.
Eurotunnel said its strategy is to apply European Technical Specifications for Interoperability to the tunnel, to encourage the growth of freight and open access traffic.