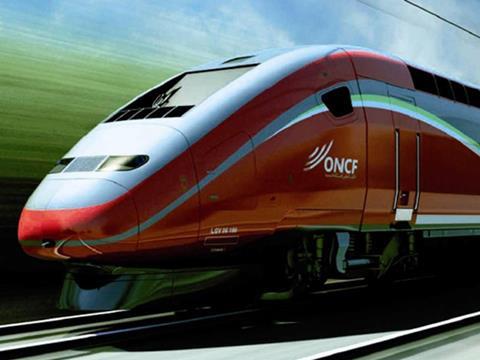 MOROCCO: Alstom Transport is to supply national railway ONCF with 14 Duplex high speed trainsets for Tanger – Casablanca services under a contract worth 'nearly €400m'.

The contract, signed in Tanger on December 10, foreshadows the opening of Morocco's first high speed line between Tanger and Kénitra in December 2015.
This 200 route-km section is the first phase of the planned Tanger – Casablanca high speed line. From 2015, the double-deck dual-system Duplex trainsets will operate at 25 kV AC on the high speed line at a maximum speed of 320 km/h and between 160 km/h and 220 km/h on ONCF's existing 3 kV DC main line between Kénitra and Casablanca.

Based on the TGV Duplex design that has been in service with French national operator SNCF since 1996, the trainsets will be 'adapted for use in the operating conditions specified by ONCF', Alstom says. Each set will comprise two power cars with eight intermediate trailers — two first class cars, five second class and a bar-buffet vehicle. Each train will be able to carry up to 533 passengers. ONCF expects to reduce journey times between Tanger and Casablanca from 4 h 45 min today to 2 h 10 min in 2015, whilst growing annual ridership from 4 million passengers to 10 million.

The main design and development work will be undertaken at Alstom's La Rochelle plant in western France. The power cars will be built at its Belfort factory, Le Creusot is to supply bogies, Ornans and Tarbes traction equipment, and Villeurbanne the electrical control system.

The trailers and power cars will be delivered separately to ONCF's Moghogha workshops, where final assembly and commissioning will take place.