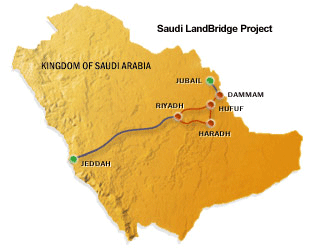 SAUDI ARABIA: On October 10 the Council of Ministers decided to proceed with the Saudi Landbridge east-west freight line as a state-funded project.
The line linking Dammam on the Gulf with Jeddah Islamic Port on the Red Sea will be state owned and financed by the Public Investment Fund, with the operations contracted out. This is similar to the model adopted for the North-South Railway, where operations began earlier this year, and the future Haramain High Speed Rail line.
The Landbridge requires the construction of around 945 km of new railway between Jeddah and Riyadh, plus work to increase capacity on the existing 450 km Riyadh - Dammam line as well as a 115 km link between Dammam and the North-South line at Jubail.
The government had originally envisaged developing the Landbridge project using private finance through a public-private partnership. After four consortia has been shortlisted, the Tarabot consortium was named preferred bidder for a 50-year BOOT contract in April 2008, however financial terms could not subsequently be agreed. Industry insiders have suggested that investors were unwilling to take on the political and demand risks of such a long-term project, which is estimated to cost up to US$7bn.
The main traffic is expected to be containers, with 120 km/h running giving a coast to coast journey time of around 18 h, compared with five to seven days by sea. Passenger trains running at up to 220 km/h would cut Riyadh - Jeddah journey times from 10 h by bus to 6 h by rail.