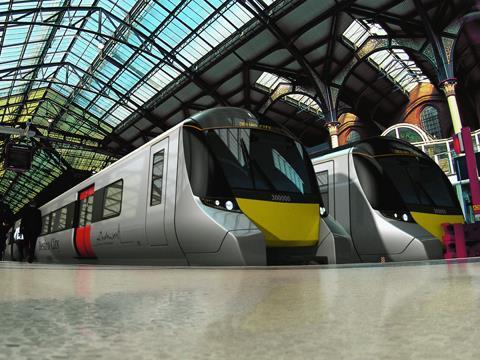 UK: Siemens unveiled Desiro City, the latest addition to its Desiro range for the UK market on July 16. The high-capacity commuter EMU forms the basis of the company's bid to win the contract to supply 1 300 cars for expanded north-south cross-London Thameslink services, the procurement of which is being managed by the Department for Transport.
Desiro City builds on advances already being incorporated into Desiros currently on order, including the Desiro Main Line trainsets for SNCB and German operator Transregio, and the Class 380 EMUs being supplied to ScotRail. Siemens is keen to ensure that each addition to the family brings a significant reduction in weight and energy consumption; the Desiro City, like the Class 380, will include 'fly-by-wire' controls to reduce cable weight and allowing a more spacious passenger saloon, and air-conditioning that adjusts itself to vehicle loading. Siemens expects that the Desiro City would offer a weight saving of around 25% against the original Class 350/450 cars delivered between 2003 and 2009.
The Desiro City is designed to reduce track wear through the use of a lighter and more compact SF7000 bogie. The design includes inboard bearings and integrated bogie-mounted traction motors. Provision has been made to retro-fit at a later date the Syntegra gearless drive bogie, which is currently on test on the München metro.
Initially planned with 50% of axles powered, the Desiro City will be equipped for dual-voltage 25 kV AC and 750V DC operation in formations ranging from three to 12 cars. It is expected that the first trainset could be delivered within 30 months of contract signature.