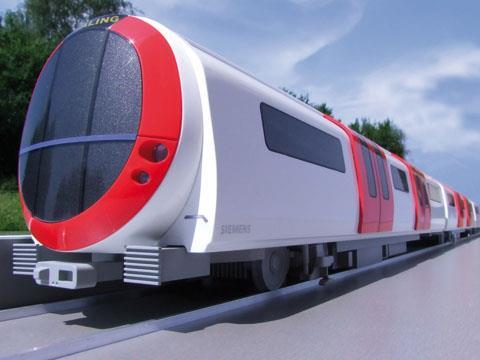 UK: A design concept for a next-generation train for London Underground's small-profile 'tube' lines was unveiled by Siemens during the Railtex exhibition.
Building on its successful role in supplying replacement bogies for Central Line and Waterloo & City Line stock, Siemens was asked by LU to develop a 'concept train' for the next round of replacement stock which will in due course be needed for the Piccadilly and Bakerloo lines.

When LU last tendered for replacement trains for the Piccadilly Line, Siemens did not submit a bid – and indeed on that occasion the plans did not proceed. Now, however, according to Friedrich Timmer, Project Manager for Rolling Stock in the Mobility Division at Siemens, 'we believe London Underground is ready for the next generation of trains'.

Comparing the concept train with the Bombardier stock now entering service on the Victoria Line, Siemens said that the future design would offer a 30 tonne weight saving with 11% more capacity. Featuring wide gangways between cars, the trains would be 30% more energy-efficient; even if air-conditioning were fitted, the trains would be 17% more energy-efficient, said Timmer.

Siemens has developed the concept as the basis of a product family adaptable for use on different LU lines. The design includes what Siemens terms an 'iconic' front end that it hopes may one day become a London landmark.

Timmer expects prequalification for the next-generation train procurement process to start in 2012.