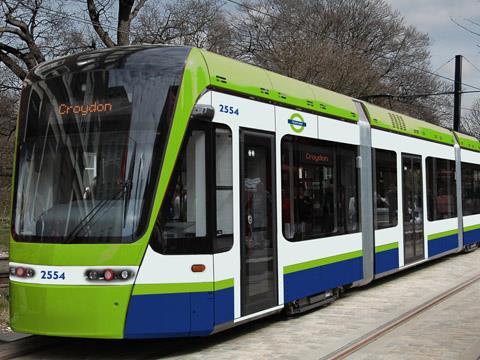 UK: Stadler Rail has won a contract to supply six Variobahn trams to increase capacity on the Tramlink light rail system in south London, Mayor of London Boris Johnson announced on August 18.
The first of the new trams is scheduled to be delivered 'this winter' and all will enter service in spring 2012, allowing a more frequent service to be operated on the busiest part of the network through central Croydon between Therapia Lane and Elmers End.
Three of the trams will be taken from a batch of five which were ordered for the Bybanen light rail line in Bergen but not yet delivered to Norway; Stadler built these earlier than the 2012 contractual delivery date to make use of free capacity at its Pankow plant in Berlin. Stadler will also build three trams directly for Croydon, plus three replacements for Bergen.
At 32 m the five-section air-conditioned Varobahn trams will be 2·5 m longer than Tramlink's existing fleet of 24 Bombardier CR4000 vehicles, requiring modifications to the stops and the depot.
The contract is worth £16·3m to Stadler, including spare parts and related equipment. The London Borough of Croydon is contributing £3m to the purchase cost.
'Perception is important, and the perception today is that things are really beginning to move again in Croydon', said council leader Mike Fisher. 'By spending heavily on extra trams we're backing what we're saying with hard cash. The tram network has proved to be a huge hit with the many thousands who use it on a daily basis. It's fair to say that, at peak times during the day, the network has become a victim of its success. These new trams will ease that burden'.
Sign up for the free Metro Report International e-mail newsletter to get the latest metro and light rail news from around the world sent direct to your inbox every two weeks.